From the monthly archives: April 2012
Yesterday, in Berlin the German industry association Bundesverband der Deutschen Industrie e.V. (BDI) has held a conference titled Tag des geistigen Eigentums – Geistiges  Eigentum verpflichtet (Intellectual Property Day - Property entails obligations). According to a report published on Heise's Newsticker the topic of the pending proposal for a Unitary Patent was discussed.
Reportedly Mr Christoph Ernst from German Ministry of Justice (Bundesjustizministerium) has re-affirmed his expectation that a conciliation on this matter can and will be reached until next meeting of the EU Competitiveness Council to be expected end of May or in June later this year.
Mr Lothar Steiling, Director Intellectual Property with Bayer AG and President of the VPP (German Association of Intellectual Property Experts), is reported to have supported the proposed enhanced co-operation to create a Unitary Patent on behalf of those circles of insustry which have decided not to oppose the pending draft contrary to the dismissive language used especially be EPLAW. Another supportive statement came from Mr Andreas Thürer, Director Intellectual Property with Bosch Rexroth.
Ms Kerstin Jorna from EU Commission DG Internal Market is said to have argued more cautiously, considering that the proposal still might fail. She explicitly appealed to the representatives of German Industries to come forward in support of the Unitary Patent.
Furthermore, statements of FFII as well as of representatives of the German Piratenpartei are said to have expressed their concerns especially that the Unitary Patent might turn out to be a tool to facilitate legal acceptance of software patents (patents on computer-implemented inventions CII).

Continue reading »
A couple of years ago, in 2007 the European Patent Office (EPO) was pleased to invite to its annual Online Services conference, which that year took place in the Lake Como area, Italy, on 13 and 14 November. The conference theme was 'End-to-end electronic processing – how to survive when the EPO no longer accepts paper'. In fact, within the broader context of the European Patent Network EPN, the EPO strived to modernise itself by announcond advanced electronic digital network superstructures.
The intention was to eliminate paperwork also with regard to communication to and from the applicants, that is, in many cases, their patent attorneys, well before the end of the decennium; see Barbara Cookson's report here. A message on the EPO website (which, meanwhile, is long gone) said:

Continue reading »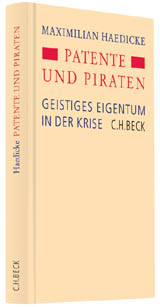 As already indicated in my earlier post, one of the mainstream topics of discussions in Germany concerning IP politicts is the stunning rise of the German Piratenpartei (Pirate Party) at least if recent polls can be trusted. As of April 18, 2012, a poll covering the entire territory of Germany attributes to the Piratenpartei a 13% share of the votes. This is remarkable, indeed. According to the same poll, the Greens could expect a 12% share of the votes and, hence, the Piratenpartei might well be called third-strongest political party in Germany. However, we should not forget that such polls usually have a substantial error margin and, hence, the reality might also be that the Greens have 14% and the Piratenpartei merely 11% of the votes. In any case, at least at the time being, the Piratenpartei appear to be well avove 10% and, of course, well ahead of the 5% quorum required to get seats in general elections.
In view of this situation we can see an increasing level of nervousness – if not outright panickiness – amongst other political parties which are feverishly considering all available options of how to cope with this new political force. It is entirely open to what end this development will lead. Some parties, in particular the Greens, might be mulling to inch towards Pirate positions in order ro regain ground in circles of younger citizens while others surely will prefer to fight agsinst the very tendencies embodied by the Piratenpartei. In this context and speaking to an audience of IP specialists living abroad I would also like to point out that the current political discussion of the Piratenpartei can by no means be reduced to issues related to IP rights. There are other topics, for example in the fields of welfare politics or related to defending civil rights which are of great importance domestically.

Continue reading »
The k/s/n/h::law blog

Some of the patent attorneys of the KSNH law firm have joined their efforts to research what is going on in the various branches of IP law and practice in order to keep themselves, their clients as well as interested circles of the public up to date. This blog is intended to present results of such efforts to a wider public.
The KSNH blogging landscape

This blog and the German-language sister blog k/s/n/h::jur link to the two popular and privately run blogs IPJur und VisaePatentes and continue their work and mission with a widened scope and under the aegis of our IP law firm.
No public Twitter messages.