Currently viewing the category: "Software inventions"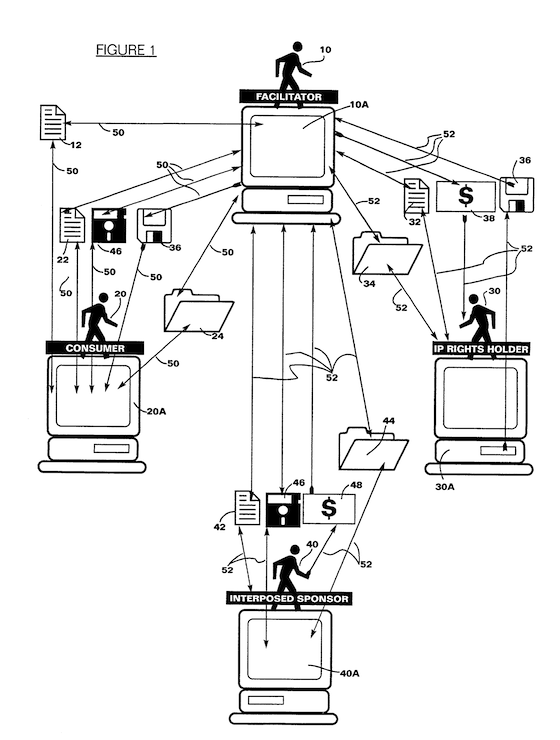 The patent US 7,346,545, relating to delivering copyrighted media products through a server free of charge in exchange for watching advertisements, has been enforced by Ultramercial against a number of Internet media competitors, like Hulu, WildTangent and YouTube. In August 2010 the 545 patent has been found invalid by a California District Court in view of the Bilski v. Kappos ruling which has been issued shortly before by the US Supreme Court (CV 09-06918). For further information on this case, please see my earlier posting here.
To be on the safe side, the District Court applied a two-stage approach, that is, as a screening filter, the CAFC's machine-or-transformation test and then the SCOTUS abstract idea test.
The MOT test failed as the District Court found that the "mere act of storing media on computer memory does not tie the invention to a machine in any meaningful way". Further, the Court identified "using advertisement as a currency" as the core principle of the patent, while the claims do not cite any concrete features as to how the core principle can be implemented.  
Some observers criticised the District Court's reasoning as being capable to kill any invention where a key concept can be labelled 'abstract' even if the invention is clearly limited to an electronic implementation and even if the electronic implementation is central to the idea.
Now, as the Federal Circuit under Chief Judge Radar reviewed the case in appeal, it turns out that such criticism hit the mark (see decision of June 21, 2013), as the case was reversed and remanded. In its decision the Federal Circuit referred multiple times to the term "technology", e.g.:
The plain language of the [patent act] provides that any new, non-obvious, and fully disclosed

technical advance

is eligible for protection.
After all, unlike the Copyright Act which divides ideas from expression, the Patent Act covers and protects any new and useful

technical advance

, including applied ideas.
Far from abstract, advances in 

computer technology

—both hardware and software—drive innovation in every area of scientific and technical endeavor.
The k/s/n/h::law blog

Some of the patent attorneys of the KSNH law firm have joined their efforts to research what is going on in the various branches of IP law and practice in order to keep themselves, their clients as well as interested circles of the public up to date. This blog is intended to present results of such efforts to a wider public.
The KSNH blogging landscape

This blog and the German-language sister blog k/s/n/h::jur link to the two popular and privately run blogs IPJur und VisaePatentes and continue their work and mission with a widened scope and under the aegis of our IP law firm.
No public Twitter messages.